Travelling around Europe is surely high on everyone's bucket list, but have you ever considered combining your travels with festivals? In the first edition of our festival hopping series, we've put together a route of five rock festivals around Europe spread over nearly a month, hopping between all five via trains with the chance to stop at a few places along the way too. All the train journeys in this guide have been calculated using InteRail's journey planner.
As this is the start of our journey, some may find it easier to reach Zagreb by plane, and its main airport is reachable from many international locations. However, Zagreb's Central Railway station (Zagreb Glavni kolodvor) is the largest station in Croatia, and therefore has excellent train links with neighbouring European nations.
Our first festival begins on the banks of Lake Jarun, settling down on its two islands with a heavyweight line up. The first names announced are Eagles of Death Metal and We Are Shining, and judging by 2014's line up of The Black Keys, Pixies and Foals, we are sure 2015 will be another cracker. Surrounded by beaches and thickly-clad forest, not only does INmusic boast names to rival any, but the island houses superb sports facilities to get involved with in between music.
From InMusic, Zagreb to OpenAir St.Gallen, Switzerland: At Zagreb Glavni kolodvor, we board an EC train bound for Munich, Germany, where we change onto another service to take us onto St. Gallen.
And after we've used that 13 hour trip to nurse off those hangovers, it's straight back into it at one of the oldest outdoor festivals in Switzerland. The now renowned trendsetting hub will feature the likes of The War on Drugs, Rise Against and Kodaline, set against the backdrop of the Sitter river, providing the perfect setting for a secluded swim, BBQ, or both.
From OpenAir St. Gallen, Switerzerland to Les Eurockéennes, France: To reach Les Eurockeennes directly takes roughly four hours, and involves taking a TGV train to Zuerich HB, another TGV service onto Mulhouse Ville, and from there, we can take a 40 minute TER train to Belfort.
However, we're not due in North East France for four days, which is an ideal amount of time to make a stop or two on our journey. Swiss capital Zurich and Basel are the two major cities on route, and both would surely provide the tonic to the past week of tents, dirt and mobile toilets.
Come Friday though, it's time to experience the French Glastonbury, dubbed such after its size and diverse line up. Les Eurockéennes has welcomed rock royalty such as Radiohead, David Bowie and The Cure over the years, this year adding Sting and The Chemical Brothers to its distinguished alumni. But what it offers that Glastonbury can't, is the spectacular surroundings of two natural bodies of water giving the festival its truly unique setting.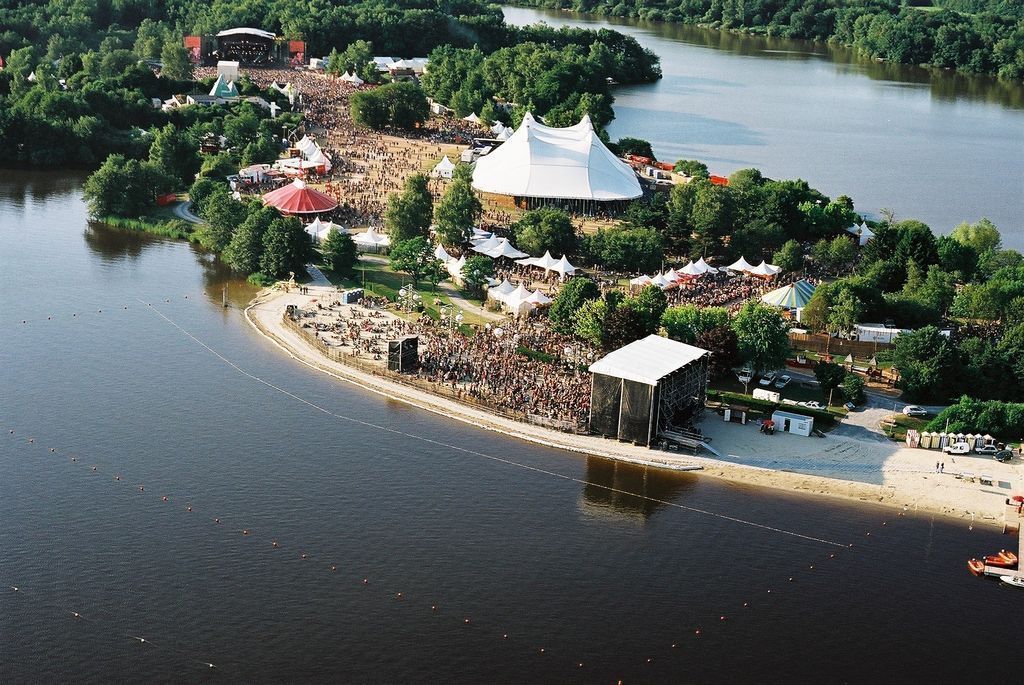 From Les Eurockéenes, France to Bilbao BBK, Spain: To reach Bilbao directly means firstly taking a train to fellow French city Nimes, where we board an AVE service to take us across the Spanish border and to Zaragoza-Delicias. From there, an ALV train will take us to Miranda De Ebro, and lastly an IC service will transport us finally to Bilbao where free shuttle buses to the festival will be running
Long eh? Well fortunately, we've four days to spare and time to soak in any number of places along the way. The major cities include Lyon and Toulouse but the Cévennes National Park is also well worth considering.
But once we reach Spain, we'll be soundtracked by the likes of Muse and Jesus and the Mary Chain on the slopes of the Ariaz Mountains. Bilbao BBK Live's music starts late, giving revellers the chance to visit the nearby city or relax on its beaches during the day, before grooving to the early hours and taking in a sunrise you'll never forget.
From Bilbao BBK Live, Spain to Super Bock Super Rock, Portgual: To reach Lisbon, we take an ALV train to Valladolid, before changing onto another train to connect us to Lisbon.
We must stress though, that to do that journey in one go would take over 15 hours, so unless you, for some reason, just adore trains, why not take a break in the Spanish capital, Madrid - a hotbed of culture that'll wet your appetite leaving you desperate to return.
The perfect antidote to those Madrid-blues however, is Lisbon's Super Bock Super Rock, and is where we end our trip, naturally on the beach of course. Similar to Bilbao BBK Live, the festival's arena doesn't open until 4pm, giving us the chance to take in the capital or have a deserved unwind and dip in the Atlantic. By night however, we'll be toasting we're still together with rock and alternative gods.
We made it!
Are you interested in festival hopping this summer? If so, drop us a line at helpdesk@festicket.com and we'll help you design your perfect trip.